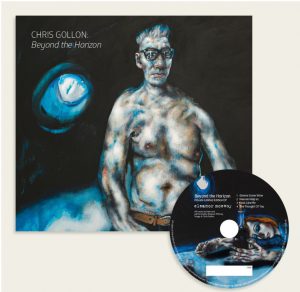 As most of you know Chris Gollon and I were creative companions for two years beginning with my 'Naked Music' album, when he gave focus and twenty four paintings to my solo music project. A painting for nearly every song and more…
When I played at the opening of his Naked Music' exhibition in London, I surprised him by singing a song I had written inspired by a painting from the exhibition, 'Dreaming of Leaving' that was, in turn, inspired by a song on 'Naked Music'.
The song was called "Gimme Some Wine". This song gave inspiration to a whole exhibition on the theme of "Gimme Some Wine".
I was devastated when Chris, my friend and fellow artist, passed away. In his memory a major solo museum exhibition 'CHRIS GOLLON  – Beyond the Horizon' is being held at Huddersfield Art Gallery 12 Oct 2019 – 04 Jan 2020. It will be a retrospective of Chris Gollon's paintings partially inspired by music or music lyrics, from those of Bob Dylan, Neil Young, Talk Talk, Thurston Moore to those that came out of our collaboration. I'm really pleased to playing a part in this wonderful exhibition.